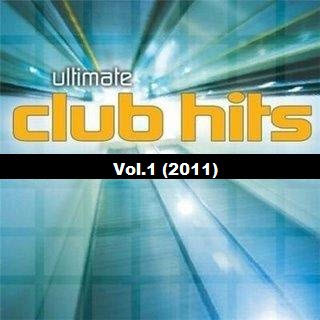 VA - Ultimate Club Hits Vol.1 (2011)
MP3 128 Kbps | 1CD | Club | 700 MB
Tracklist:
001. LNM Project feat. Elise - Watching Me Move (Bellatrax Radio Edit)
002. Alex De Vito - Im A ***ing Vip
003. Serge Devant Feat. Emma Hewitt - Take Me With You (Adam K & Soha Radio Edit)
004. Hannah - Shadow On The Wall (Riff And Rays Mix)
005. Tensnake - Coma Cat (Round Table Knights Remix)
006. Baby Alice - Sexy (Radio Edit)
007. Bingo Players - Tom s Diner
008. Peter Luts feat. Jerique - Cant Fight This Feeling (Radio Edit)
009. Andrey Vakulenko - Loco Coco (Colombian Radio Mix)
010. Gina Starr - I Want It Now (Robbie Rivera Remix Edit)
011. Elena - Disco Romancing (Video Edit)
012. Henrik B - Now And Forever feat. Christian Alvestam (Norman Doray Cazzo Remix)
013. Zoe Badwi - Freefallin
014. Florian Arndt - Let Freedom Reign (Houseshaker Mix)
015. Natalia Kills - Mirrors (Moto Blanco Radio)
016. Niels Van Gogh Vs Voltaxx - Bomb The Bass (Voltaxx Mix Edit)
017. Jeremy de Koste - Drive Me Insane (Radio Edit)
018. Kurd Maverick - Shine A Light (Botz & Flydrums & Dani Villa Remode Mix)
019. Edward Maya Feat. Vika Jigulina - Desert Rain (Radio Edit)
020. DJ F.R.A.N.K - Discotex! (Yah!)
021. Stan Kolev - Farewell (Ben Coda And Ad Brown Main Room Remix)
022. House Rockerz - Herzrasen
023. Kesha - We R Who We R (Fred Falke Remix Radio Edit)
024. Nervo Feat. Ollie James - Irresistible
025. Tim Berg Norman Doray And Sebastien Drums - Tweet It (Dbn Remix Edit)
026. Laurent Wery & Swiftkid - Hey Hey Hey (Radio Mix)
027. Morning Parade - Under The Stars (Labyrinth Ear Remix)
028. Gianni Kosta - I Want To Give You (Taito Remix)
029. Houseclap And Max C - On And On (Mikael Weermets Remix)
030. Timofey & Bartosz Brenes vs. Terri B! - Heaven
031. Laserkraft 3d - Nein Mann (Tocadisco Remix Edit)
032. Matt Caseli And Danny Freakazoid - Sign Your Name (Across My Heart)(Radio Edit)
033. Empire Of The Sun - We Are The People (The Shapeshifters Vocal Remix)
034. Deadmau5 feat. Rob Swire - Ghosts N Stuff
035. Deadmau5 Und Wolfgang Gartner - Animal Rights
036. Amoko - Believe feat. C. Bastio (Jun-X Remix)
037. Carra And Rudari Feat Sam Wood - Music In Me (Radio Edit)
038. Chuckie & Hardwell Ft Ambush - Move It 2 The Drum (Tech Mix)
039. Cheryl Cole - The Flood (Wideboys Radio Edit)
040. Dj Ortzy - Infected (George F And Eran Hersh And Darmon Remix)
041. Tim Royko Feat. Kediva - Dreamer (Original Mix Edit)
042. Moonbeam Feat. Avis Vox - Star Way (Ts Radio Edit)
043. Craig David - One More Lie (Standing In The Shadows)
044. Afrojack Feat. Eva Simons - Take Over Control (Ian Carey Remix)
045. Tristan Garner feat. Polina - Fallin (Radio Edit)
046. Kazaky - In The Middle
047. Mariya feat. Ja Rule - I m Here (Remix)
048. Funkerman - Unconditional Love (feat Ida Corr) (Firebeatz remix edit)
049. Serge Devant Feat. Emma Hewitt - Take Me With You (Original Club Cut)
050. Jasper Forks - Alone
051. George F And Tekkman - Lolita (Original Mix)
052. Michael Mind Project Feat. Mandy Ventrice And Carlprit - Delirious
053. Gyptian - Hold You (Major Lazer Remix)
054. Boney M - Marilyn Monroe vs. Barbra Streisand (Radio Mix)
055. Shining Point - Girlz Luv Djs (Radio Edit)
056. Victoria Silvstedt - Saturday Night
057. Diego Miranda Feat. Liliana - Ibiza For Dreams (Ralvero And Bassjackers Remix Edit)
058. Max Farenthide - Happy People
059. Greg Armano - Stars (Radio Edit)
060. Romantica - You Want My Love (Radio Edit)
061. Tomcraft - Room 414 (Cant Get Away) (Tube And Berger Remix Edit)
062. Remady Feat. Craig David - Do It On My Own
063. Atb - Twisted Love (Airplay Mix)
064. Bastian Van Shield - Whith Dust
065. Nick Skitz Vs Dj Lotus - Only Girl (In The World) (Freddy O Edit)
066. Paffendorf feat. Fara - Will I Ever (Matt Rixx Edit)
067. Chocolate Puma - Tonco Tone (Original Mix Edit)
068. Eric Prydz - Niton (The Reason)
069. Pendulum - The Island (Radio Edit)
070. Kitsch 2.0 Feat. Craig Smart And Theory - Sugar In My Feet (Kitsch 2.0 Mix)
071. Kate Ryan - Sage Comme Un Image
072. Mike Candys - Together Again (Christophers Radio Edit)
073. Jay Style - Reach Up (Datamotion Edit Radio Remix)
074. Fedde Le Grand Feat. Mitch Crown - Rockin High (Johnny Deekay Remix Edit)
075. Alain Bertoni feat. Jimmy Slitter - Shining Star (Thierry de Broca Remix)
076. Tim Berg - Seek Bromance (Samuele Sartini Mix)
077. The Noisettes - Don t Upset The Rhythm (Go Baby Go)
078. Soundforgers - The Buzz (E-Techno Edit)
079. Spencer And Hill - Yeah Yeah Yeah
080. Alex Alvarez & Muttonheads - Moment Of Happiness (Original Mix)
081. Toni Granello - Wings of Love (Remady Radio Mix)
082. John Houseback feat. Sandie Amantini - Flying (Radio Edit)
083. Primo - Sexy Sax (Radio Edit)
084. Gianni Kosta - Crazy feat. Paolo Ravley (Club Mix)
085. Loic Penillo feat. Audrey Valorzi - Pura Vida (Spanish Radio Edit)
086. Meck - Windmills (Radio Edit)
087. Guenta K - Turbullar Bells
088. Nirvana, Michael Jackson - Smells Like Rockin Robin
089. Jes - Awaken (Coco Channel Radio Edit)
090. Example - Kickstarts (Klaas Radio Mix)
091. The Saturdays - Work (Cahill Radio Edit)
092. Christopher S & Mike Candys - Rhythm Is A Dancer (Radio Edit)
093. Armin van Buuren vs. Sophie Ellis-Bextor - Not Giving Up On Love
094. Sady K - Ich Liebe Dich (Eric Chase Club Mix)
095. Agnes - I Need You Now (Uk Radio Edit)
096. Marq Markuz & Dj Erohin - Dj, Kill Me By Your Music
097. Blackfeel Wite - Immortals (Original Mix)
098. Milk And Sugar Feat. Ayak And Lady Chann - Crazy (Yves Murasca And Ezzy Safaris Piano Remix
099. Roger Sanchez - 2gether (Antoine Clamaran Radio Edit)
100. Duck Sauce - Barbra Streisand (Afrojack Meat Mix)
101. Spencer And Hill - Lost In Space ((Matteo Marini Remix)
102. LG Performers feat. Stevie H - I Have to Be Alone (Radio Edit)
103. Picco - Venga (Db Pure Radio Edit)
104. DJ Moms - Pray (Radio Edit)
105. Jean Claude Ades feat. Sam Obe - Work Of Art
106. R.I.O. - Like I Love You (Money G Radio Edit)
107. Finger And Kadel - Nachtmusik
108. Axwell Feat. Errol Reid - Ive Got Nothing But Love (Remode)
109. Cher - You Havent Seen The Last Of Me (Dave Aude Club Mix)
110. Scarmix Remakerz feat. Kdeeja - Hit Me (Radio Edit)
111. Dj Falk - Jaana (Twin Pack Remix Edit)
112. Sandy Rivera And Rae - Hide U (Norman Doray Remix)
113. John Dahlback Feat. Terri B - Flirt (Original Extended Mix)
114. Doodge And Viper - Boom (Electro Version Edit)
115. Armin Van Buuren Feat. Christian Burns - This Light Between Us (Radio Edit)
116. Bob Sinclar - Kiss My Eyes (Andrey Zenkoff & Mishel Lopes Radio Edit)
117. Mattara feat. Winston - Dreams Of My Life (Andrea T Mendoza vs Mattara Radio)
118. Coming Out - Start Again (Datamotion Edit Remix)
119. Michael Feiner And Eric Amarillo - Music Will Turn You On (Dabruck And Klein Remix Edit)
120. Rico Bernasconi Vs. Vaya Con Dios - Nah Neh Nah
121. Noel Sanger - Everglade Anthem (Original Mix)
122. Stephan M, Laurent Simeca - Roxanne (Niklas Gustavsson Remix)
123. Mischa Daniels And Tara Mcdonald - Beats For You
124. Hi Tack - Say Say Say (Waiting 4 U) (Koen Groeneveld & Addy Van Der Zwan s Gotta Wait Remix)
125. Lazee Feat. Mohombi - Do It (Jay Frogs All Night Mix)
126. Ph Electro - Every Breath You Take
127. Jessie J Feat. B.O.B - Price Tag (Benny Page Remix)
128. SykenSugarstarr - Like That Sound (Radio Edit)
129. P SIX - Git Wit U (Single Edit)
130. Tony Nocera - 7 Minutes After Midnight (Jam Limmat Full Vocal Remix)
131. Micha Moor - Tonight (Original Edit)
132. Tony Marquez feat. Phylly - In Love With the Music (Radio Edit)
133. Javier Gonzalez - Andreas Song (Gonzalo Shaggy Garcia Remix)
134. Jeremy Kalls - Anything for You (Short Dance Edit)
135. Tom Novy Feat. Lima - Now Or Never (2011) (Lissat And Voltaxx Edit)
136. Jean Claude Ades - Vallee Des Larmes (Pleasurekraft Sideshow Remix Edit)
137. Kalls and Arc - U Got It (Radio Edit)
138. Greg Parys - Why Don t We Just *** (Radio Edit)
139. Kalls and Arc feat. Ellington - U Got It (Jeremy Kalls Radio Edit)
140. The Whiteliner - Saphir (Original Mix)
141. C & C Music Factory - Gonna Make You Sweat (Dj Kashtan & Dj Kirillich Remix Radio)
142. Eric Chase - Everybody Surrender
143. Dj Gregory And Gregor Salto Feat. Serafim Crew - Paris Luanda (Steven Jamal Edit)
144. Submission Dj - Babarabatiri (Original Mix)
145. Kevin Rudolf feat. Rick Ross - Welcome To The World
146. Distant People Feat. Hannah K. - Rhythm Of My Love (Cosmic Funk Remix Edit)
147. Britney Spears - Hold It Against Me The Alias (Radio Remix)
148. Bellini - Samba All Night (Radio version)
149. Alex Kenji - Lets Get This Thing Started (Original Mix Edit)
150. Milk & Sugar Vs Vaya Con Dios - Hey Nah Neh Nah (Milksugar Radio Version)
151. Koen Groeneveld And Addy Van Der Zwan - Do It Do It
152. Dr. Alban - Sing Halelluah (Dj Oleg Petroff Remix)
153. Alex Kraften - Forever Loved (Radio Edit)
154. Nari & Milani & Cristian Marchi feat. Luciana - I Got My Eye On You (Cristian Marchi & Paolo
155. The Whitesharks - Pump It Up
156. Goose - Cant Stop Me Now (The Bloody Beetroots Remix)
157. Royaal N Black Feat Bryan B - Come Home 2011 (Djs From Mars Radio Edit)
158. Mitch Crown - Crazy (Jordy Lishious Dope And Dirty Remix Edit)
159. Medina - Addiction
160. Bingo Players - Lame Brained (Original Mix)
161. Andrew Spencer - Heart Of The Ocean (Titanic Theme) (STFU Remix Edit)
162. Phunk Investigation Vs. Boy George - Generations Of Love 2011 (Da Fresh Mix)
163. Zuri - Burn Out (Will Reckless Remix)
164. Cristian Marin And Dj Gaston - The Situation (Move Out)
165. Sidney Samson Feat. Sicerow - Fill U Up (5 Star Hotel Mix Edit)
166. Paperboy feat. Naima - Let Yourself Go (Radio Edit)
167. Riva Starr Feat. Noze - I Was Drunk (Original Mix Edit)
168. Redroche Vs. Armstrong - Make Your Move (Radio Edit)
169. Johnny Bravo And Mieczyk Feat. Free On Stage - Sunrise (I Feel)(Scibi Dub Edit)
170. Mark Skyy feat. Big Daddi - Shes Supersonic (Radio Edit)
171. Plastikbass Feat. Oliver Kobs - Es Wird Laut
172. Pi - The Time (Dirty Bit)
173. Afterlife - Far Away (Thor House Mix)
174. Micha Moor And Epiphony - Break My World
175. Mika Vyne - Just One More Night (Radio Edit)
176. Levan - Right On (Central Avenue Dub Edit)
177. Sacha M and Dave Mitz - Skyland (Radio Edit)
178. Vanity - Gipsy Moves (Nah Neh Nah)
179. Nari And Milani Feat. Carl Fanini - Smells Like Teen Spirit
180. The Shapeshifters - She Freaks
181. Hurts - Wonderful Life (Mantronix Remix)
182. Coolio Vs. Kylian Mash & Rico Bernasconi - Gangstas Paradise 211 (Splash Vs. Scotty Edit)
183. Remady Feat. Lumidee And Chase Manhattan - Im No Superstar (Voodoo And Serano Club Mix)
184. Dbn And Patric La Funk - Inside Out (Inpetto Remix Edit)
185. Steve Shine - Nightbeat (Fred de F. Limited Remix)
186. Inusa Dawuda Vs. Lissat Khetama - Love Train The Valentines Song (Radio Mix)
187. Yves Murasca Feat. Linda Fields - Happy (The Good Guys Remix Edit)
188. Dj Chrixx feat. Morri - Got to Let You Know (Radio Edit)
189. Timati Feat. Kalenna - Welcome To St. Tropez (Dj Antoine Vs Mad Mark Radio Edit)
190. The Dancer - Don t Go Away (Radio Edit)
191. Power Francers - Pompo Nelle Casse (Belzebass Party Remix)
192. Felix Wellcom - Talk to Me (Radio Edit)
193. SUNDAY - Begin to Biguine (Radio Edit)
194. The Shrink Reloaded Feat. Mc Pryme - Nervous Breakdown 211 (Timothy Allan Vocal Radio Mix)
195. Swedish House Mafia Vs. Tinie Tempah - Miami 2 Ibiza
196. Christophe Fontana feat. Joanna Ray - Armonia (Radio Vocal Mix)
197. Jasper Forks - Alone (Sunrider Radio Edit)
198. Sunrider - The Bomb (Electro Radio Edit)
199. Katy Perry - Teenage Dream (Vandalism Le Pop Mix)
200. Jazzbit - Sing Sing Sing (Yolanda Be Cool And D - Cup Edit)
Download Links
Filesonic
http://www.filesonic.com/file/533909014/Super_Club_Hits.part1.rar
http://www.filesonic.com/file/533904634/Super_Club_Hits.part2.rar
http://www.filesonic.com/file/533931234/Super_Club_Hits.part3.rar
http://www.filesonic.com/file/533934834/Super_Club_Hits.part4.rar
http://www.filesonic.com/file/533926434/Super_Club_Hits.part5.rar
http://www.filesonic.com/file/533927374/Super_Club_Hits.part6.rar
http://www.filesonic.com/file/533942764/Super_Club_Hits.part7.rar
Fileserve
http://www.fileserve.com/file/yDuzjMe/Super_Club_Hits.part1.rar
http://www.fileserve.com/file/2cDyVY2/Super_Club_Hits.part2.rar
http://www.fileserve.com/file/5sgKJMb/Super_Club_Hits.part3.rar
http://www.fileserve.com/file/u2WZp5f/Super_Club_Hits.part4.rar
http://www.fileserve.com/file/Gb4excg/Super_Club_Hits.part5.rar
http://www.fileserve.com/file/xzTvSsc/Super_Club_Hits.part6.rar
http://www.fileserve.com/file/s9E8zjg/Super_Club_Hits.part7.rar
All links are interchangable. It mean you can download any part of archive from any server and can extract it without problem! PM me if links are dead, I will try to re-upload the file if I can!
Download related to VA - Ultimate Club Hits Vol.1 (2011) are available from file hosting sites like uploaded, rapidgator, filefactory, turbobit, uploadrocket, extabit, bitshare etc if you have any legal issue related to VA - Ultimate Club Hits Vol.1 (2011) links pls feel free to contact us.