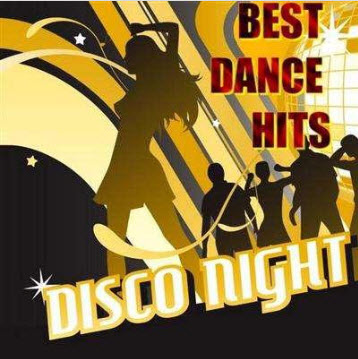 VA - Disco Night (2011)
1CD | Release: 2011 | MP3 256 Kbps | 360.38 MB
Genre: Club / Dance
Tracklist:
001 Flo Rida - Turn Around (5,4,3,2,1) (DJ Bam Bam Radio Remix)
002 David Costa feat. Lima - Into You (Club Mix)
003 Rihanna feat. Chris Brown - Bad Girl
004 Playmen - Together Forever (Leon & Vassill Radio Mix)
005 Anna Lee vs. Alex Teeb - One Summer Day (Radio Mix)
006 Shakira Vs Pacha All Stars - Las De La Intuicion (Jim Shaft Ryan Zoned Out Radio English)
007 Elin Lanto - Discotheque (Jonas Von Der Burg Edit)
008 Lady Sovereign - I Got You Dancing
009 Andrew Spencer Vs. Lazard - Here Without You
010 DHT feat. Edmee - Your Touch (Merayah Radio Remix)
011 Ciara & Young Jeezy - Never Ever
012 Pink - Please Dont Leave Me (Digital Dog Radio Edit)
013 Sam Obernik feat. Paul Harris & Dada - Stereo Flo
014 Basshunter - Walk On Water (Radio Edit)
015 Michael Jackson - Billie Jean (DJ Fisun remix)
016 Danzel - What Is Life
017 Deepside Deejays - Hold You (Radio Version)
018 Britney Spears - Shattered Glass
019 Shaun Baker feat. Maloy - Hey Hi Hello (Michael Mind Radio Version)
020 Kevin Rudolf feat. Kid Cudi - Welcome To The World (Mike Rizzo Funk Generation Radio Edit)
021 Tanga Team Feat. 2 Eivissa - Big Fiesta
022 Geo Da Silva - Ill Do You Like A Truck (Balkanik Version)
023 Monako - Shadows (Original Sax Club Mix)
024 ANT1 - Figaro (original mix)
025 HaTayarim - Para Para (Club)
026 Ben DJ feat. Sushi - Me And Myself (Diego Abaribi Radio)
027 Sambuca - Coco Jambo (Extended Club Mix)
028 Discofamily - It Just Wont Do (Bigroom Radio Edit)
029 Groovebusterz - Everybody Put Your Hands Up
030 Mattara feat. Winston - Dreams Of My Life (Mattara Radio Mix)
031 Cuba Club - In My Eyes (If Theres Love In His Eyes) (Radio Mix)
032 Inusa Dawuda & Sebastian Courtier - Children Of The Night
033 Nicola Fasano vs Pat-Rich - Happy Birthday (Chriss Ortega Radio Mix)
034 Finger & Kadel - Mana Mana (Bigroom Edit)
035 JD Davis - Life In The Extreme (Original Radio Edit)
036 Michael Mind - Loves Gonna Get You (Laurent Wolf Cut)
037 Monrose - Why Not Us (Electronic Remix)
038 Red Blooded Women - Enjoy The Silence (7th Heaven Radio Mix)
039 Rico Bernasconi - Love Deep Inside (Screen Mix)
040 Fentura - Live It (Kindervater Radio Mix)
041 Sonic Palms - On The Beach
042 Bob Sinclar feat. Master Gee And Wonder Mike - Lala Song (Tocadisco Remix)
043 Dj Ross Vs. Double You - Please Dont Go 2009 (Popdance Radio Mix)
044 Basic Element - The Bitch
045 Jay-Jay - Let The Music Play (Club Mix)
046 CJ Stone - Shining Star (Cjs Club Mix)
047 Darius And Finlay - Destination (Club Mix Edit)
048 Chico Del Mar And DJ Base - Caribbean Queen (Funkk Frikz And Club DJ Team Radio Version)
049 Kate Ryan - Babacar
050 Bob Sinclar feat. Shabba Ranks - Love You No More (Original Mix Radio Edit)
Download Links
Filesonic
http://www.filesonic.com/file/568159894/Disco_Night.part1.rar
http://www.filesonic.com/file/568159524/Disco_Night.part2.rar
http://www.filesonic.com/file/568158544/Disco_Night.part3.rar
http://www.filesonic.com/file/568158624/Disco_Night.part4.rar
Fileserve
http://www.fileserve.com/file/3zKtHGq/Disco_Night.part1.rar
http://www.fileserve.com/file/pgTsk9M/Disco_Night.part2.rar
http://www.fileserve.com/file/yjzrf8E/Disco_Night.part3.rar
http://www.fileserve.com/file/SFcsQV5/Disco_Night.part4.rar
All links are interchangable. It mean you can download any part of archive from any server and can extract it without problem! PM me if links are dead, I will try to re-upload the file if I can!
Download related to VA - Disco Night (2011) are available from file hosting sites like uploaded, rapidgator, filefactory, turbobit, uploadrocket, extabit, bitshare etc if you have any legal issue related to VA - Disco Night (2011) links pls feel free to contact us.